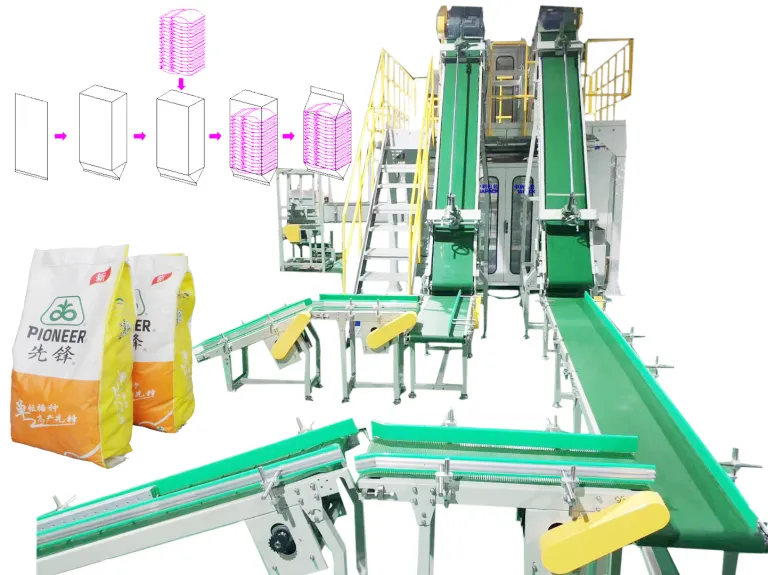 Details:
The packing machine is mainly to complete the packaged pouch products (150-1000 g) by request (order form: vertical arranged separately) neatly into the bag, sewing bag out of the automatic packaging process. In order to achieve a small package from the bulk material to a woven bag, full automatic operation, saving manpower, material and financial inputs, to reduce production costs, improve production efficiency, the unit is widely used in washing powder, salt, seeds , milk powder and other powder, granular packaging machine is the first choice for major companies.
Equipment basically consists of the double inclined conveyor, high speed conveyor, counting machine, woven bag automatic packaging machines, sewing machine, end product conveyor.
Production process: sackets ---horizontal conveyor---Double slope conveyor --- high speed conveyor ---bag counting machine ---automatic bag feeding machine---auto sewing machine—end woven bag putout
1 Packaging range: 150g ~ 1000g sachet products;
2. Packaging Materials: paper bag,woven bag (lined with PP/PE film)
3. Packing speed:4-14 woven bags / min,( 40-90 pouches / min)
(speed slightly changed according to different products)
4. Ranking form:single silo baiting,single row laying
5. Compressed air: 0.5 ~ 0.7MPa, gas 0.8 m3/min;
6. Power Supply: 5Kw  380V±10%  50Hz.
Advantages:
1. This packing unit can realize auto bag feeding,bag opening,counting,filling,moving output,auto sewing, the whole packing process is fully automatic .;
2. The touch screen control unit, operation specifications change, maintenance are very convenient, safe and reliable.
3. Can be arranged to achieve a variety of forms to meet different  needs of customers.