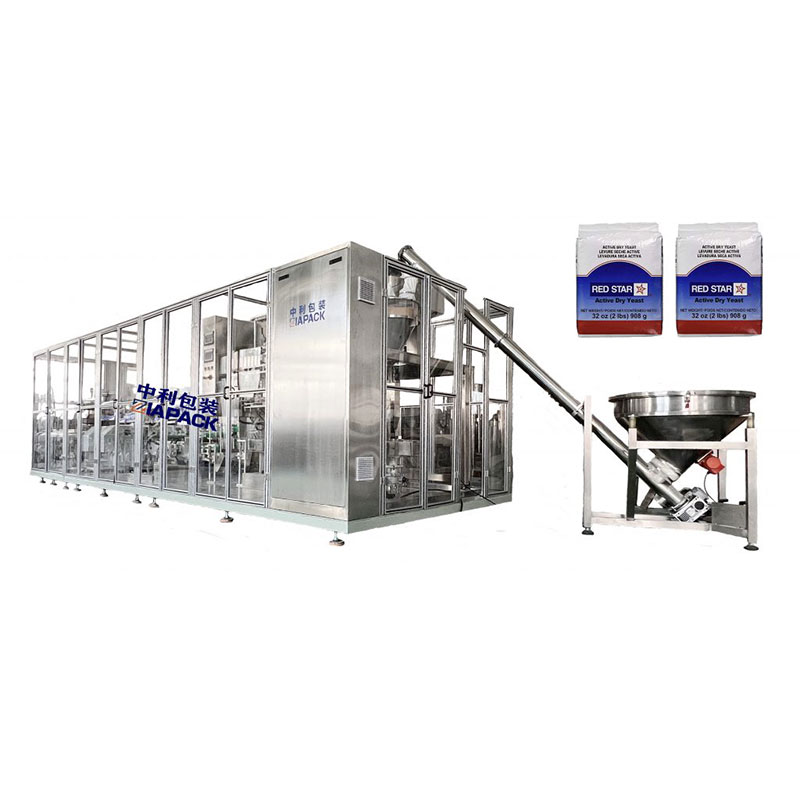 Introduction :
This machine including one set ZL520 vertical bag making packing and sealing machine .one set ZL2000 Auger measuring machine ,One set ZL100V2 double vacuum chamber packing machine ,and one set output conveyor .This machine are widely use for packing food pharmacy chemical and other product in powder or small granule. Like coffee powder ,yeast powder wheat flour and so on .The whole machine adopting inside pumping to vacuum product .The vacuum degree is very high and packing speed is very high can be reach 8bag/min .The finished product is very nice and have a long shelf life.
Technical parameters :
Model :ZL100V2
Packing speed :200-250gram   25-30bag/min
500gram     22-25bag/min
ZL100V2 LINEAR TYPE DOUBLE VACUUM CHAMBER PACKING MACHINE
This machine is special design for vacuum packing product in high vacuum degree .The whole machine is control by Siemens PLC and touch screen .Adopt famous brand Pneumatic Components. Start the Vacuum process in vacuum chamber can reach the high vacuum degree.
Technical parameter: 
Bag length: 100-260mm
Bag width:60-250mm(side width + front width )
Bag type: brick type vacuum bag
Air source consumption:0.6MPa 0.45m3/min
Power:8KW 380V±10% 50Hz
Machine weight:1200kg
               ZL100V2  Vacuum &
bag reshape system
Auto Vibrate, Form, Vacuum & Reseal Brick Bag
Stable working with SIEMENS PLC, Panasonic Servo Drive,
Adopt AIR TAC Pneumatic Components