Product description: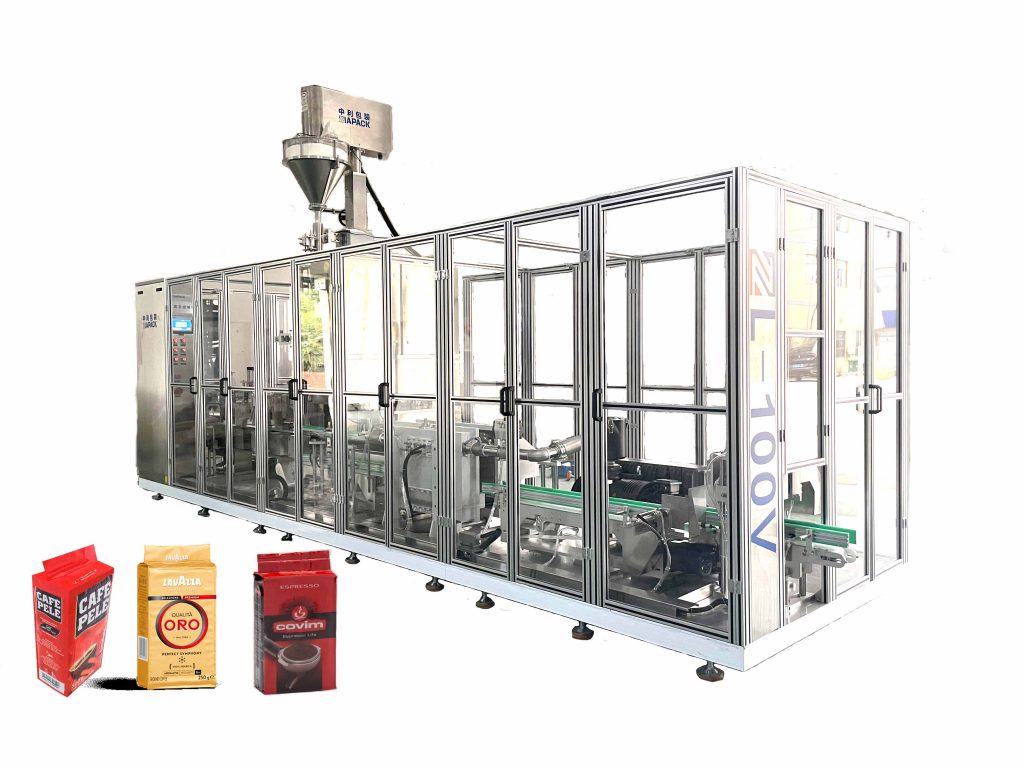 Our ZL-100V automatic vacuum packing machinery unit for rice is composed of ZL420 automatic vertical packing machine, ZJS-2000 automatic electronic weigher, ZT1000 vacuum machine, DT5 Z type bucket elevator, DT5 incline bucket and product conveyor and more.
The functions of ZL-100V include automatic feeding, weighing, vacuum packaging, sealing, and printing, counting,  and finished product conveying. It adopts PLC control apparatuses which are imported from well-known international companies. Thus, they are of reliable performance. The finished products done by automatic vacuum packing machine are of magnificent appearances.
Machine working Steps:
Get bag from VFZ series: vertical form fill & seal machine - Vibrate the bag - Form the bag shape - Vacuum & seal bag - Output bag
Advantage:
1. ZL420 vffs  packaging machine
Machine fully controlled by Siemens or Omron PLC & Touch-Screen
Minute capacity can automaticlly display on Touch screen
Film transport system and horizontal Jaw motion both drived by Panasonic
Safe quick change of tube and collar by just pull out the braket
Optoelectronics detect film position on collar to correct film excursion
Electrical photo sensor inducting color code to contol bag length
Unique Pneumatic Film-Reel locking structure to avoid film drawing deflecting
Independent temperature adjustment.
Various types of heating sealable laminated films namely PE/BOPP, CPP/BOPP, CPP/PET, PE/NYLON, aluminum foil based can be run on the machine.
The packaging machine also can be used for Polyethylene Film Sealing by changing correspond equipemnt
2. Auger filler
Servo motor control auger filling
Can be detached for easy clean
Simple and compact in design
All stainless steel product contact parts. Non-contact parts are stainless steel and aluminum
3. ZL-100V Vacuum &bag bag reshape system
Auto Vibrate, Form, Vacuum & Reseal Brick Bag
Stable working with SIEMENS PLC, Panasonic Servo Drive
Vacuuing inside the vacuum chamber which more suit for powder material
High vacuum degree and long shelflife
Brick type bag which are easy for packing in carton and show in the super market