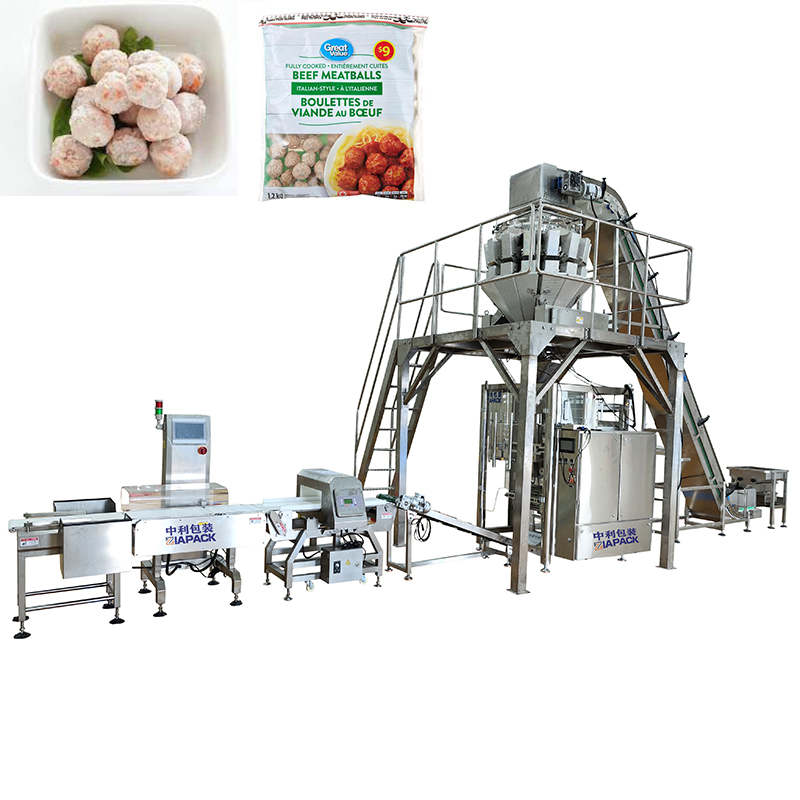 Production introduction :
The packing line is composed of automatic bag forming filling packing machine,Full bag conveying and automatic carton filling machine &carton sealing machine .The Bulk materials are packaged by an automatic packaging machine, and the packaged finished products are sorted through the conveying production line, turned to sorting, accelerated buffering, and then automatically and orderly packed into cartons in a certain quantity, and sorted by a flattening machine. , The automatic carton sealing mechanism seals the carton according to the requirements, and the automatic strapping machine carries out strapping, and finally it is output by the logistics line.  Widely use for salt rice beans frozen vagetable frozen food pet food and so on .
The main carton filling line is design for automatic packing small soft bag into carton box .Adopting gravity dropping principle to arrange the bag one by one and then fall into carton box .The whole machine is control by siemens PLC and operate on color display .Whole machine driving by servo motor .Bag arrange and drop speed can be adjusting .Machine frame made by SUS304 ,With visible plexiglass security door .Widely use for packing small pouch with rice ,sugar ,grain ,salt and other product into carton box .
Model NO
ZL420S
Air consumption
0.8mpa 0.6m3/min
Packing speed
10-50bag/min
Power consumption
6kw
Arrangement
Vertical or horizontal
Language on display
Chinese &english
Max carton box
390*280*300mm
Dimension
1850*1300*1750mm
Min carton box
380*250*125mm
Machine weight
1100kg
Bag dimension
L 160-280

W180-250

Pillow bag

Power
380v 50hz 3 phase