Automatic vertical bag forming filling sealing machine for liquid (sauce) product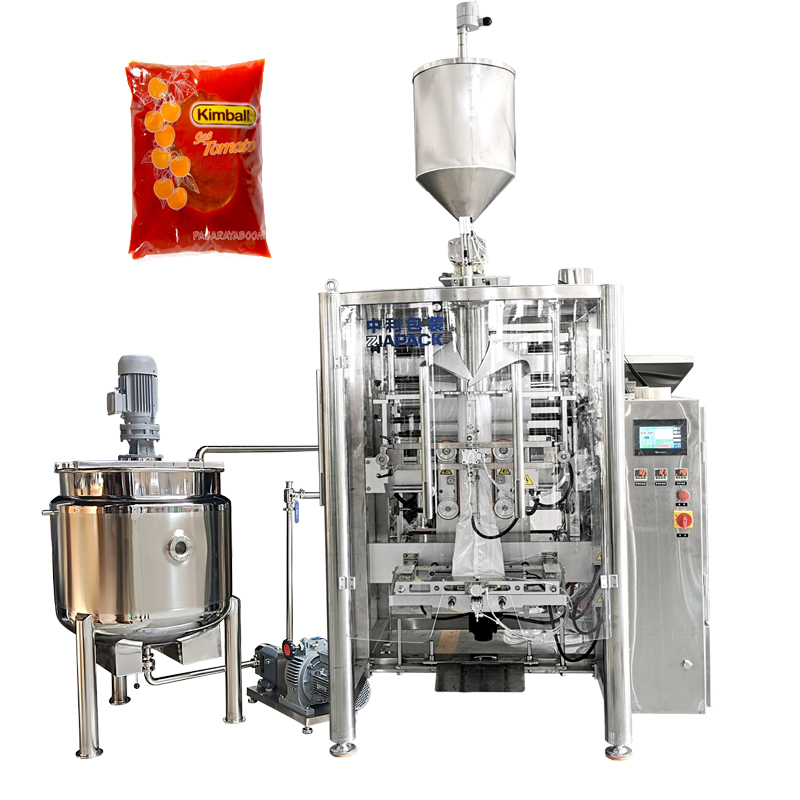 Introduction :
This unit was developed for the needs of fluid and viscous products. The unit is composed of a grouting machine and a packaging machine; the packaging machine has a simple structure and is easy to operate; the machine integrates the functions of bag making, filling, sealing and counting. It uses a servo motor to pull the film and has an automatic deviation correction function.
The PLC control components are all international famous brand products with reliable performance. The advanced design ensures that the machine is very convenient for adjustment, operation and maintenance in different industries. The pneumatic part of the grouting machine adopts pneumatic components; the filling volume and filling speed can be adjusted arbitrarily, and the precision is high; the filling bulkhead adopts anti-drip and anti-drawing filling devices; this unit can be modified into riot-proof filling according to customer needs System; multi-head filling; insulation system; semi-automatic or fully automatic filling system. According to customer requirements, the electrical control of the entire unit meets the requirements for explosion protection.
Four, related configuration
The control part adopts touch screen, which has the advantages of simple operation and stability;
The pneumatic part adopts solenoid valve, oil-water separator and cylinder;
The film pulling motor adopts servo motor;
The film-feeding part of the packaging machine adopts servo film-drawing technology to effectively prevent the package material from deviating.
ZL100 Piston filling pump with 50L hopper
The piston filling pump widely use for measuring the volume of different liquid .Can achieving high stability and precise positioning. All material contact part made by SUS316 (Double layer )
Measuring volume :100-500ML
Pneumatic components: SMC/AIR TAC
Accuracy :0.5-1%
Speed :20-35time/min
ZL420 VFFS Packaging machine
The whole machine made by Stainless Steel 304, This machine equipped with bag-making, cutting, code printing , etc. Siemens PLC and Touch Screen,Panasonic servo motor, Japanese Photo Sensor , Korean Air valve, etc..The film pulling system adopted servo motor driving making speed faster .
Technical Parameters:
Weighing Range: 100-1000g
Packaging Speed:20-30 bags/min
Bag size: (50-280)*(80-180)mm(L*W)
Compressed air requirement: 0.6Mpa 0.65m³/min
Reel outer diameter: 400mm
Core inner diameter: 75mm
Machine weight: 800kg
Power source: 5.5kW 380V±10% 50Hz
Main Features and Characteristics:
A wide range of pouches:  Pillow and Gusset pouches.
High speed: More than20-60 bags/min
Easy to operate: PLC controller and color touch-screen, fault indication on the touch screen.
Easy to adjust: only about 10 minutes to change different pouches.
Frequency control: speed can be adjusted by frequency conversion within the range.
High Automation: unmanned in weighing and packing process, machine alarm automatically when failure.
Safety and Hygiene:
No film, machine will alarm.
Machine alarm and stop when the inadequate air pressure.
Safety guards with safety-switches, machine alarm and stop when the safety guards are opened.
Hygienic construction, the product contact parts are adopted sus304 stainless steel.