ZL25K-A Automatic bagging packaging machine unit
Introduction :
This packing machine is developed for granule material packing such as chemical, feed, grain and seeds field .The unit is provided with the function of automatic bag-fetching ,automatic filling ,automatic bag-conveying and sealing .It can be linked with all kinds of granule material production equipment to work to achieve unattended production of large-sized packaging operations.LCD touch screen control .Human-computer interface more favorable .Automatic fault diagnosis .Safety shutdown protection. Quick adjustment and easy maintenance .
The whole line including one set ZL25K-A model Fully automatic packing machine ,one set  ZL25K-S Double bucket servo motor weighing machine (Including one set platform and ladder, and finished product output conveyor ).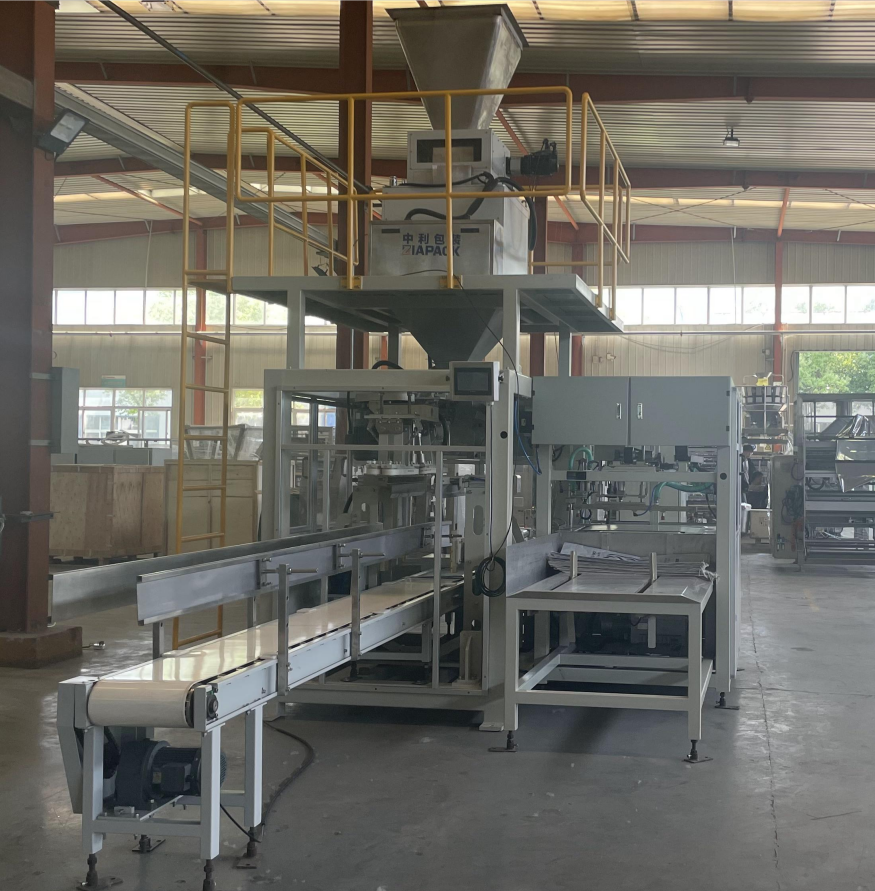 ZL25K-A automatic bagging packing machine
Structure and principle
This unit is a dedicated equipment for automation production mainly to realize automatic packaging (automatic bag pickup, bag feed, bag delivery, bag opening, filling and bag sealing) and output of finished product. This equipment totally adopts PLC man-machine interface display screen control, which significantly facilitates operation, so, it is the requisite equipment for automated enterprise production.
Application and scope
This machine is suitable for packaging of granular material in big woven bags or kraft paper bags or PE film bag, and the packaging weight range is 25kg~30kg.
Characteristics
Applicable to the packaging bags of the same specification, if the packaging bag needs to be changed, please make adjustment as per the operation requirements;This machine adopts rational design, bag suction, bag opening, filling and sealing are completed automatically;
This machine adopt PLC + man-machine interface display screen control with high performance, high speed and high efficiency;This machine is structurally compact and has nice appearance;
This system is suitable for various packaging materials such as paper bag, woven bag (without coated film), plastic bag, etc., and is widely applied in chemical, forage and grain sectors, etc.
Parameters for equipment installation
Air source pressure: 0.5~0.7MPa  600 NL/min
Supply voltage: 10 kW  AC380V 50Hz
Noise: ≤80dB
External dimensions (L*W*H): 5425*3020*5,225mm
Technical parameters :
Packing material :Paper bag,woven bag(lined with PP/PE film)Plastic (film thickness 0.2mm)
Bag size :700-900mm*550-650mm(L*W)
Packing range :granular material 50kgs
Measurement accuracy;±0.2%
Packing speed:8-2bag/min(depend on the packing material )
Air source :Compressed air 0.5-0.7Mpa
Power supply:4.0kw 380v ±10%,50hz
Machine size :4300*3500*3700