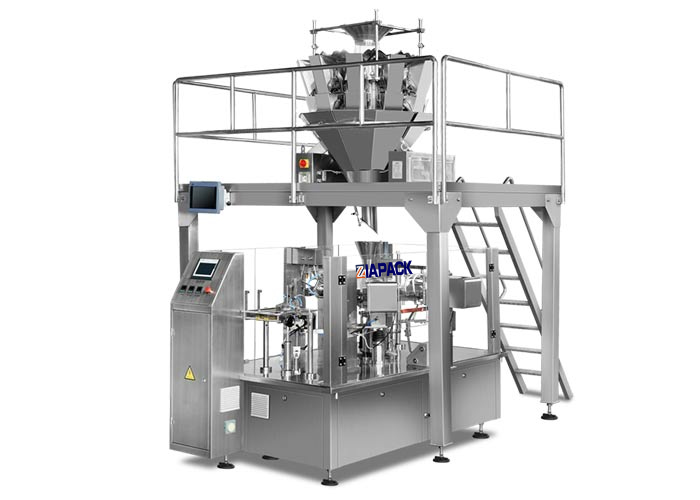 Product Application
---
All kinds of material such as solid,granule,powder,liquid,thick liquid,and other materials that can be packed by bag.
Bag types
---
Standup bag, Portable bag, Zipper bag, 4-side sealing bag, 3-side sealing bag. paper bag, Mtype beg etc, and al kinds of compound bags.
Main Features
---
1) Wide application : various shapes, state and nature of products (such as rice, coarse grains, nuts, spicy snack, Chinese chestnut liquid, etc.)
2) Easy to operate: PLC controller, HMI system, fault indication on the touch screen.
3) Easy to adjust: Synchronously adjust machine clamp, and parameters for different products can be saved and available from database when changing products.
4) High Automation: Complete all actions by end cam, whose machining technology is more simple than grooved cam, thus cost lower. The highest speed can reach 60pcs/min
5) Perfect Prevention System: when the bag is not open or not opened enough, it will be non-filling and non-sealing, so the empty bags return to the first station to refill and not wasted and it will save the production cost.
6) Stainless steel/other materials ensure sanitation and safety, meet the GMP standard.
7) Oil-free vacuum pump: avoid production environment pollution.
8) Waterproof Design: direct water-washing the machine surface, easy to clean, prolong the useful life.
9) Premade bag packing: high sealing quality, upgrade the finished product.
10)Adopt concentrated oil-supplied lubrication device inside the grooved cam.
(Machine clamps are adjusted in one time, mechanical actions are controlled by grooved cam, empty bag cycling, product parameters can be saved)
Technical Parameters
---
High Efficiency Automatic Filling Sealing Packaging Machine For Solid Powder Or Solid

Equipment Model

ZG8-200

Equipment material

304 stainless steel

Pneumatic component

SMC,AirTAC

Vacuum component

Vacuum Pump (ORION) or Vacuum Generator (SMC,piab)

Drive mode

Frequency conversion motor drive

Operation interface

Touch screen(double language:Chinese and English)

Bag materials

Heat Sealable film as PA/PE,PET/PE,AL film etc.

Bag size

W:70~200mm L:100~300mm

Filling range

5~1500g

Packing speed

20~60bags/min (depended on the product and filling weight)

Package accuracy

Error≤±1%

Weight

1000kg

Dimension

1570mm*1440mm*1480mm(L,W,H)

Total power

3kw