Brief Introduction:
10-20kg Rice Packing Machine
This machine is suitable for the pillow or gusset sealing bag of rice, beans, sugar, corns. This Rice Packaging Machine is equipped with 2 heads linear weigher.
This vertical rice packing machine unit including of one two head linear Weighing Machine, one Vertical Form Fill Seal Machine, one platform and one Inclined Bucket Conveyor. It integrates the functions of feeding, metering, bag-making, packaging, sealing, printing, punching and countering, has automatic film position control function, both the horizontal sealing and film pull mechanisms adopt servo motor for transmission so as to guarantee high efficiency of the machine. It could be ideally combined with the other machines.
The machine can pack two type of bag, gusset bag and pillow bag. It can second time film pulling function and do max bag length is 920MM.
Features:
High speed: Around 10-30 bags/min(according to different weight).
Easy to operate: PLC controller and color touch-screen, fault indication on the touch screen.
Easy to adjust: only about 10 minutes to change different pouches.
Frequency control: speed can be adjusted by frequency conversion within the range.
High Automation: unmanned in weighing and packing process, machine alarm automatically when failure.
Safety and Hygiene:
No film, machine will alarm.
Machine alarm and stop when the inadequate air pressure.
Safety guards with safety-switches, machine alarm and stop when the safety guards are opened.
Hygienic construction, the product contact parts are adopted sus304 stainless steel.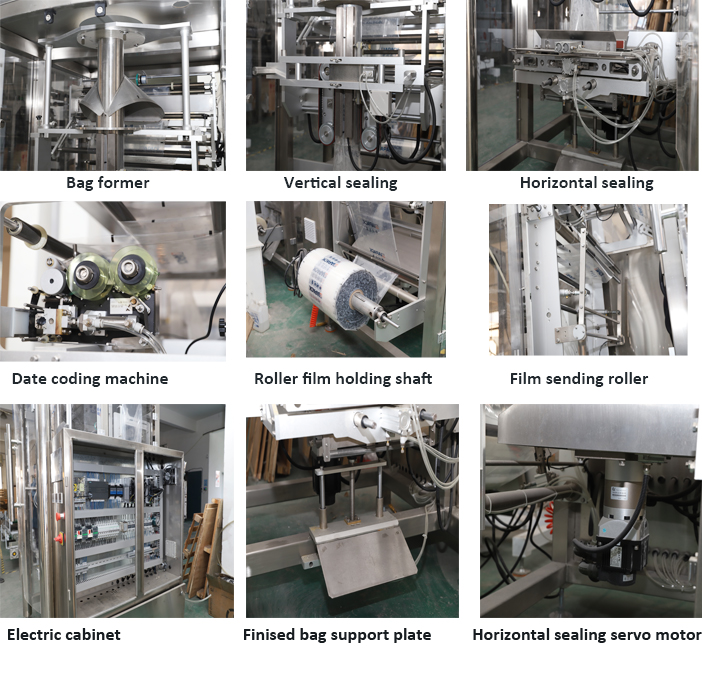 APPLICATION:
This rice packing machine is suitable for granule products, Such as grains, rice, dried fruits, beans, nuts, salt, sugar, tea, seeds, detergent powder, etc. So this machine can also be designed as Beans Packing Machine and Sugar Packing Machine, etc.
Design For Large Dimension Packages
Make Pillow Bag, Gusseted Bag, Block Bottom Bag
It is a colossal giant bulk bagger offers automation solutions for large bags, which size is up to 18.9'' long by 21.2'' width in a single stroke.
Features
---
Single stroke bag length up to 480mm (3.9 to 18.9''); Bag width up to 535mm (4.7 to 21.1'')
Vacuum pump assists film transport
Film auto tracking, Length registered by photo sensor and Encoder
Film roll holders with pneumatic chocks
With supporting plate to buffer the heavy bags' falling
Fully interlocked guarding system
Rugged, durable equipment to withstand severe environment
Additional Info
---
Bag Styles:Pillow Bag
Bag Width:200 to 550mm
Bag Length:100 to 800mm
Product Characteristic:Granules, Powders, Liquids, Pastes
Dosing System Compatible:Volumetric Cup , Piston Filler, Linear Scale , Multi-Head Scale, Auger Filler
Running Motion:Intermittent
Working Efficiency:5-30 bags/min
Control By:PLC with HMI Touch Screen
Date Coding Can Be:Hot Stamping Coder, Thermal Transfer Coder, Label Applicator
Options Available:Perforation, Dust Absorb, Seal PE Film, SS Frame, SS & AL Construction, Nitrogen Flushing, Coffee Valve, Air Expeller, Heavy Bag, Heating & Mixing Hopper
Power & Voltage:6 KW
Compress Air:0 MPa 0.5 M3/min
Dimensions:2400*1800*2750mm (94.5*70.9*108.3")
Machine Weight:1200 KGS
Our warm service
---
1. Manules / Videos of machine installation, adjusting, setting, maintenance are available to you.
2. If any problems occured and you can not find out the solutions, Telecom or Online face to face communication are available around 24 hours.
3. Shilong engineers & technician are ready to your countries for services if you agree to pay the expenditure.
4. The machine will have one year warranty. During the warranty year, if any of the parts are not broken because of misoperation, we guarantee to replace free of charge. The warranty will start counting after the machine is sent out and we received the B/L.
5. Shilong has an independent team for after-sale service. If any emergency please call the saleman or our after-sale's manager