Description
---
ZLF-25kg  Automatic powder bag feeding packaging machine unit is specially suitable for powdery material, the packaging material is paper bag, PE bag, woven bag, the packing range is 10-25kg, the maximum speed can reach 3-8bags/min. High efficiency, advanced design suitable for various requirements.
Configuration explanation
---
1 The machine is easy operated and stable because of adopting Siemens PLC and 10 inch color touch screen in control part.
2 Pneumatic part adopts Festo solenoid, oil- water separator, and cylinder.
3 Vacuum system adopts Festo solenoid, filter, and digital vacuum pressure switch.
4 The magnetic switch and photoelectrical switch are provided in every movement mechanism, which is safe and reliable.
5, Becker Vacuum Generator Bag Grasping & SMC Valveas Well As SMC Cylinder Which Greatly Facilitate The Customer in Machine Using And Operating;
6, The Main Machine is Equipped With Tempered Glass To Ensure Safety Working Environment And Dust Preventing;
7, The Whole Machine Frame is Made Of SS304 Stainless Steel Which Has Good Appearance And Easy For Cleaning;
8, Big Bag Stock Volume For Over 400 Bags; Small in Machine Size Which Takes Less Installation Space.
Mechanism component
---
1 Automatic picking-up bag system: Automatically pick up the prepared bag.
2 Opening bag, clamping, holding bag mechanism: Automatically open, hold and fix bag.
3 Hugging bag and conveying mechanism: Hugging bag and conveying bag.
4 Sewing bag: Automatic conveying bag and automatic sewing (sewing bag)
5 Electrical control part: Completely control the whole packaging unit.
6 Automatic weighing machine: ZTCFX-25 screw weighing machine
7 Conveyor: Convey material automatically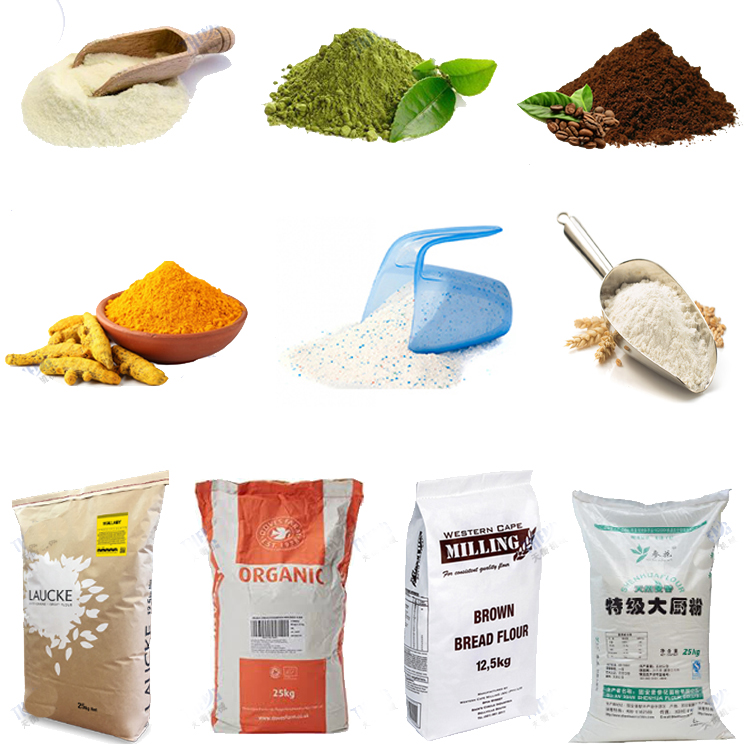 Technical parameters
---
| | |
| --- | --- |
| Packaging material | prefabricated woven bag (lined with PP/PE film) |
| Size of bag making | (1150-1350mm)x(570-670mm) LXW |
| Packaging speed | 3-8 bags/min (slight variation depending on the packaging material, bag size etc.) |
| Ambient temperature | -10°C~+45°C |
| Power | 220V 50HZ 3Kw |
| Air Consumption | 0.5~0.7MPa |
| External dimensions | 5860x2500x4140mm (L x W x H) |
| Weight | 1600kg |